Homepage
Welcome to Tilley's Favorite.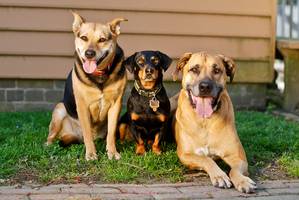 Tilley's Favorite has a wide selection of all natural preservative free dog biscuits, antlers and chews. You'll be able to find just the treat or chew for your dog, no matter their size.
Biscuits
All of our biscuits are handmade, straight from our Virginia kitchen! We use only wholesome ingredients and absolutely no preservatives. Our biscuits are cured thoroughly to extend their shelf life up to 60 days.
We recommend freezing for longer storage or for a special cool summertime snack!
The biscuits are all hand-cut to about 1-¼″ square, so they are perfect size for any pooch. Our biscuits are cured hard on purpose, so if your friend has bad teeth, try wrapping a biscuit in a damp paper towel and put it in the microwave for a few seconds. That will moisten the cookie and really get those flavors flowing! Each biscuit is about 10 calories and loaded with fiber, so be careful with your little yappers! We don't like chubby pups!
Antlers
Got a big chewer at home? Dogs have a natural instinct to chew. Our goal is to provide safe chews for all dogs, young, old, big, or small. We have the perfect solution for every dog! Antlers have more calcium and are denser than normal bones, making them much tougher and less likely to shatter or splinter. We carry a large variety of Elk, Moose, Mule Deer, and Caribou antlers, in sizes small enough for your Chihuahua or big enough for your Mastiff to have a hard time wrapping his jaws around! Most of our antlers have exposed marrow, so your dog will forget you even exist while he's gnawing away at it!
Chews
When your pup wants a chew, look no further than our selection of chews. For very active chewers pick our Stuffed Cow Hooves Chews. Sweet Potato Chews will satisfy any dog of any size, but are perfect for smaller dogs or those with delicate tummies. Ugli Stix are perfect to keep small dogs busy for a few minutes or a substantial snack for larger breeds.
Here at Tilley's Favorite we truly care about all dogs.
Choose Tilley's Favorite, if you care what you put in your pup!